The results are in – A&E firms are looking for ways technology can improve project delivery, but missing the strategic technology plan to identify how emerging technology trends can drive their business forward.  Think geolocation and Internet of Things (IoT) don't apply to your business? Think again.
Join us as we highlight the technology-specific findings from the 40th Annual Deltek Clarity A&E Industry Study, including:
Top three technology challenges of A&E firms
Key benefits of being on the cutting-edge of adopting technology
What your competitors say are the most important tech trends for their firm
Speakers

Megan Miller, CPSM
Product Marketing Manager
Deltek
Megan Miller is a product marketing manager with Deltek and works with architecture & engineering firms around the world to help them improve their business processes through technology and thought leadership with resources like Deltek Clarity and Deltek's leading project-based software solutions. Prior to joining Deltek, Megan spent more than a decade in the architecture & engineering industry and stays involved in the industry today.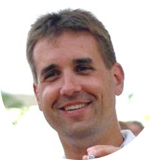 Bret Tushaus
Vice President, Product Management
Deltek
Bret has been with Deltek for nearly 10 years within the product management organization supporting Deltek's ERP platforms and has been instrumental in the efforts around Vantagepoint, the next generation of Vision. His mission within Deltek was to find ways for the Vision product to continue to meet the changing needs of customer.
Register